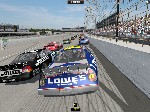 Missing a vehicle? Send me the info and pictures.

Beautiful Interior Stripped Interior
1966 Corvette Coupe

Your Missing Vehicle

Another Missing Vehicle
Ever worry about loosing Your Classic Car to Thieves?
As a Classic Mustang owner I know that no amount of insurance can replace your classic car.
With so many states offering Builders Titles for older cars now, you may have a hard time
tracing the auto's past. Cars can be re-titled in another state and forever lost. Have you ever
tried to buy an older car and found at the closing that the car has a "lost title"? Working together,
we may be able to take a bite out of the crime of classic car auto theft! If you are like me, anytime
you see a nice classic car you probably strain to get a better look. In a way a classic car owner
(or future owner) is always on the lookout for other classic cars. Let's face it, there are quite
a few more auto buffs than there are police officers. The law enforcement officers do a wonderful
job, but, they will be the first to tell you that most cases are solved with the help of the every day
citizen. The police can benefit from the informed car buffs. We see the cars and then inform the
police officers. In today's age of technology, we can help each other.

[ Home ] [ Hot Sheet 1 ] [ Hot Sheet 2 ] [ Hot Sheet 3 ]
Send mail to Webmaster with questions or comments about this web site.
Copyright © 2001-2010 Classic Car Registry